How to Protect Documents
There are different ways and necessities for images and document protection – to ensure their authenticity, to protect them from interference by the third parties, to copyright them, to prevent them from unauthorized use, etc.
Universal Document Converter is the software offering several ways of document protection.
3 Steps to Protect Documents from Unauthorized Use
Before uploading your photos, presentations or portfolio on Facebook, oDesk or other social networks, it makes sense to think about copyright so that no one else could claim their authorship.

To protect your documents from unauthorized copy & paste, save them in the Bitmapped PDF format. Each page of the document then will contain one graphics file, which will include texts and illustrations. Besides, you will protect your documents from distortion when viewing it on any PC, tablet, or a smartphone.
To indicate copyright, use the Graphics copyright symbol offered by Universal Document Converter. Use your avatar or a company logo.

A text watermark offered by Universal Document Converter, will help you protect your documents and photos from illegal use. Photos published on Facebook or Google +, will then contain your name and link to your website. You can place a text watermark in the corner thus not preventing the visitors from viewing your images and documents. This method of protection will be sufficient and will not allow using your materials on the side portals.
Protect Documents from Amendments

To prevent your documents from amendments by the third parties, there exist two methods:
These two methods make document amendments hard or even impossible.
Password Protection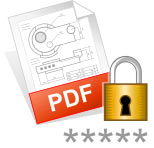 To protect the confidential documents from unauthorized access use the Password protected PDF option offered by Universal Document Converter. PDF documents will then become encoded, and the viewer, such as Adobe Reader, will require a password to get access to their contents.
Protect Documents in Batch Mode
Protecting a single document is definitely much easier than protecting many of those. If you have to process more than 10 documents per day, it makes sense to think about automating this task.
Print Conductor has been designed specifically for batch processing the documents. Add the documents to the list, select Universal Document Converter as a printer, introduce the desired settings and click Start.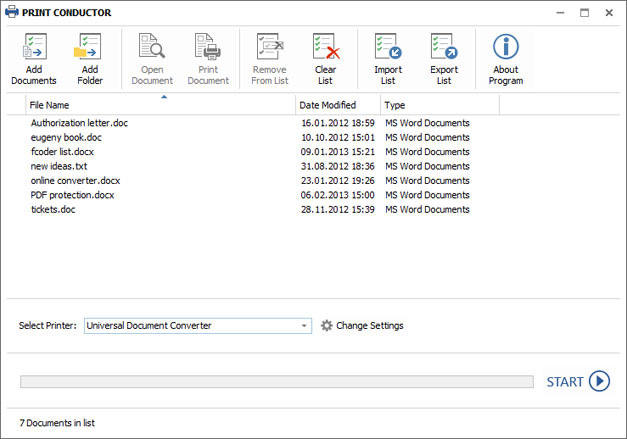 Code Examples for Developers and System Integrators
The Universal Document Converter package includes public API and code examples that can be integrated into other applications and programs and be used by independent software developers. To speed up the installation process of Universal Document Converter on a large number of workstations, make use of the automatic deployment system.
The "conversion kernel" within the Universal Document Converter is a perfect tool for similar conversion jobs fulfillment.
Examples of converting documents to PDF for different programming languages.