How to Split PDF
A PDF file usually contains several pages that can be used as separate files.
To split multipage PDF to single pages, please install Universal Document Converter and follow this manual.
On this page:
To split PDF files in batch mode you will need three programs: Adobe Reader (or Adobe Acrobat), Universal Document Converter, and Print Conductor. Print Conductor is the software that has been designed specially for batch processing documents and image files.
Start Print Conductor and add your PDF files to the list
Select the Universal Document Converter printer
Click Change Settings
Go to File Format. Select PDF Document and Create single-page for each page. Click OK.
Click Start to begin spliting a number of PDF files: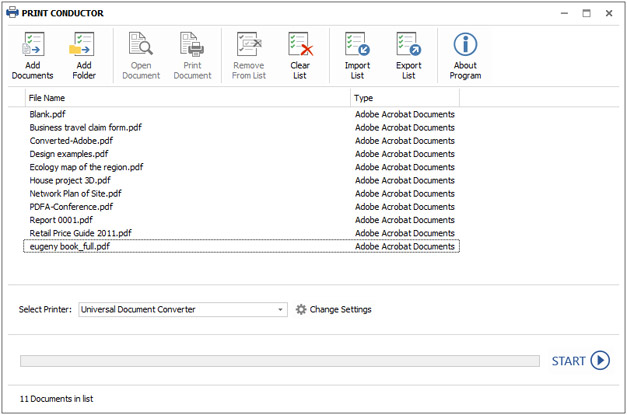 Universal Document Converter contains public API, code examples and other resources that may be helpful for the software developers. Our resources can be used for similar conversion projects.
Here are some examples of processing PDF files in different programming languages.
Related conversion tutorials: