Convert Word to JPEG
The need to convert the Microsoft Word documents to JPEG image files arises when there is a necessity to publish the Word documents on the website. The document saved as a JPEG file becomes compatible with any Internet browser and does not require any extra plugins. By converting Word to JPEG you will be able to create thumbnails of your documents which will make the documentary content easier to browse.
On this page:
2JPEG is command line tool designed by fCoder team specially for document and image files converting automation. 2JPEG can be started from server-side scripts or from your application source code.
Start the conversion process using command line, looks like:
2jpeg.exe -src "C:\In\*.*" -dst "C:\Out"
For more information about 2JPEG command line keys and features, please visit:
https://www.2jpeg.com/overview/2jpeg-command-line-syntax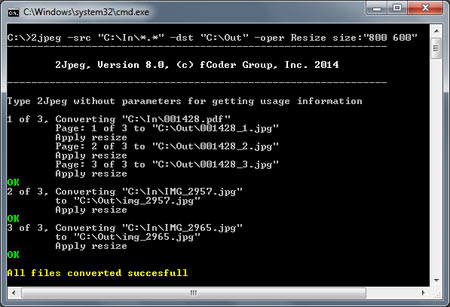 Related conversion tutorials: