fCoder Releases a New Update 4.7 for FolderMill
FolderMill 4.7, a new version of automated document printing and conversion platform by fCoder, is out now. The latest version offers a range of new features and improved processing core.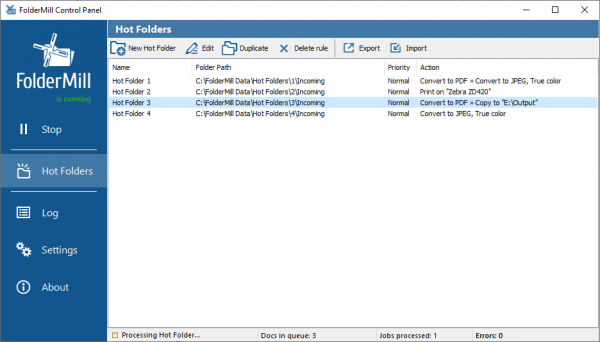 FolderMill is based on folder monitoring in real-time. A user makes rules by creating Hot Folders that would watch for incoming files. Various tasks can be assigned to them, and the program performs these tasks as soon as new documents appear in the Hot Folders. Each Hot Folder may have one or a series of tasks called Actions. Different Actions such as Convert to image, Convert to PDF, Print document, Copy document, Rename document, Add text or file watermark can be assigned to a Hot Folder and combined together.
Did you know?
FolderMill is compatible with Universal Document Converter. It can be selected as a printer for Print Document Action as a virtual printer. That means, you can set up fast paperless turn-around workflow in your environment. Using both programs together will allow you to print documents to PDF and image formats automatically.
The software lets you easily automate the process of batch processing of multiple files. With FolderMill, one can save much time by converting large volumes of files in bulk. Since the whole process is fully automated, there is no need to convert or print each document manually.
Version 4.7 highlights
Ability to set a specific page range for Add text or file watermark Action
Ability to print ZPL directly to a label printer via Generic Text Printer Driver
New filetypes supported: DICOM, P7M, Outlook PST, OST
Compatibility with eDrawings Viewer 2020
Improved logging
And more
See all improvements in version 4.7 →