How to Print Word Docs if You Don't Have Word
How to print multiple Word documents if you don't have Word? You can do without Microsoft Office! Multiple DOC, DOC, RTF documents can be printed without opening each file and without Word installed. Try one of our three solutions: a desktop app, a file converter, or server-side software.
Considering the price of Microsoft 365 (MS Office suite), it is not always possible to buy and install it on each device we use. There are ways to print a single Word document without Word. But what if you are working on multiple Word documents and want to print all the files at once? For example, you may need to mass print envelopes with labels for mail merge or quickly print a set of DOCX files without spending too much time. See solutions for automation below.
Method 1: Print multiple Word files without Word with a desktop app
This method will suit you if:
You need a "classic" desktop program that can print several office documents or images from time to time.
Print Conductor is a simple batch printing software for home or corporate users. Thanks to its intuitive interface, use the List of Documents that you can fill with your docs, images, or any other files to be printed. Once all settings are configured (which is optional), you just press Start, and all your documents are sent to the printer queue.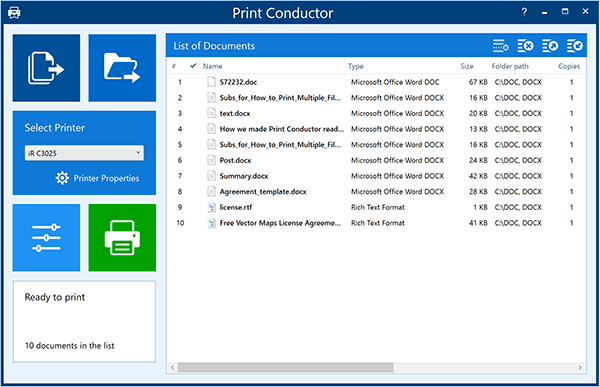 Print Conductor can use Microsoft Word API to print Word files, but having Word installed is not necessary. It doesn't require any additional apps to be installed when it comes to printing DOC, DOCX, RTF, ODT document types. The program can print them in bulk using its internal engine only.
Method 2: Turn MS Office docs into PDF with a PDF converter
This method will suit you if:
You can't open your Word documents for some reason, or you are not planning to edit them.
It's a good idea to convert a Word document to PDF first. Batch convert your documents into PDF – it is one of the most versatile, uniform, well-known, and "system-friendly" file formats. To convert Word to PDF in bulk, we suggest using DocuFreezer. This desktop converter can save many different file types to PDF or image formats.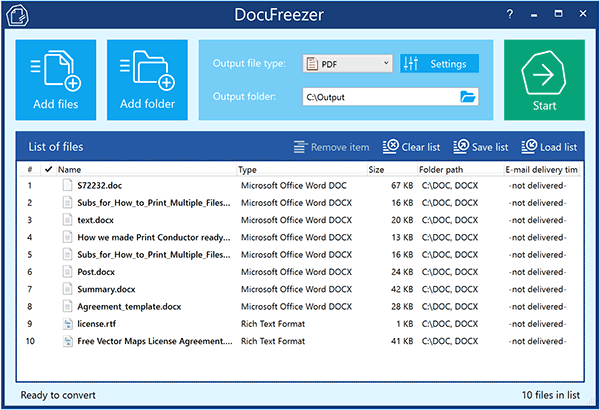 Once you have them as PDFs, use batch printing software to print them all.
Besides, converting to PDF will ensure that all contents, including fonts and formatting, will be printed exactly like the source document. That's why print shops often ask for high-quality files in PDF format.
Combine multiple Word Documents into a PDF and print them in bulk
Another good idea to print multiple files or office documents would be to combine them into a single PDF document. You can do it via DocuFreezer, too. Then simply print this new file created from a whole set of documents – by opening it in a browser or any PDF viewer. The advantage is that all documents will be printed as listed and you need not worry about out-of-order printing.
Method 3: Print MS Office documents on a server without Office installed
This method will suit you if:
You want to have documents printed on a server with minimal user interaction.
If you're looking for a more complex solution for document processing on a server, try out FolderMill. FolderMill can be of great help, especially if you need to print office documents silently – without popup dialogs or opening up applications such as Word or Excel.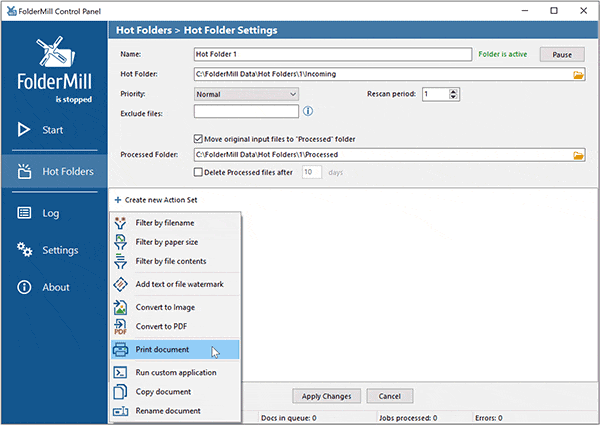 FolderMill is file printing and conversion software for various organizations with intensive document flows. Usually, it is installed on a single PC, acting as a print server (or on an actual server – service mode is also available). To print documents, end users just copy their files to a shared network folder. FolderMill monitors this so-called "Hot Folder", and as soon as new files appear there, they are processed according to predefined rules. Automated document printing can be configured via FolderMill's Print Document Action.
This program can be configured to run as a service on Windows Server (2003 or newer) – it can work both on desktop and server. It can also print or convert DOC, DOCX, and RTF files without Microsoft Word or its alternatives. So using FolderMill does not require additional software installed locally to convert or print Word docs automatically.
Print Conductor vs. DocuFreezer vs. FolderMill
All three programs can help you automate document processing. Regardless of which program you choose, you or your users will no longer need to follow tedious procedures: open each file, check settings, click the Print or Convert button, open the next one, and so on.
Want to compare Print Conductor and FolderMill? Take a look at the comparison chart.
---