IT with a Human Face: History of PDF Format Development
It's a rare document that looks perfect from the very beginning. Normally it requires editing and revision. But, when the preparatory work is over it's important to save the final version to prevent any further changes. The standard Microsoft Word application, in which a document is normally created, does not satisfy this requirement.
However, you can make a copy of a document that will look identical to the original and will "photocopy" the final product with the help of Adobe PDF files. Another advantage of a PDF is the ability to display the file exactly the same on any device; be it a smartphone, a laptop, or on the Internet.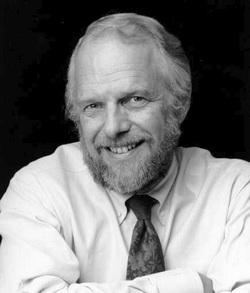 Interestingly, when PDF was created its initial purpose was to make offices paper-free, or "green". Its developer – co-founder of the Adobe Company John Warnock (on photo), wanted to create a file format that would allow distribution of documents throughout offices without the need to print them. To achieve this goal, the file format needed to be universal to save information of all types – text, graphics, technical drawings, etc. Plus, it was supposed to display the file contents on any computer with any operating system.
The resources to make this happen already existed in Adobe: developers utilized PostScript language as its basis and a few side applications for supporting the necessary file contents. The first name of PDF's predecessor was IPS (Interchange PostScript). The first version of PDF, with its new name, was released in 1992.
Surprisingly, it did not turn out to be very user-friendly. The files were large in size. Also, the file format did not support external hyperlinks, which prevented it from being used on the Internet. To view files one needed a special PDF viewer, such as Acrobat Reader, which actually remains popular today. At that time it was expensive to create PDF files and to view them, with a price tag of $50 for Adobe Acrobat. These factors prevented PDF files from gaining popularity, until developers made a smart marketing decision to release a free version of Acrobat Reader.
Functional improvements were included in PDF files starting with version 1.1., which was released in 1994. It allowed external links, security features, and the possibility to make notes. The program got its major user – the US Department of Treasury, which distributed tax papers saved as PDF files among US citizens.
Future versions of PDF offered improvements in color rendering so that the file format could be used in prepress. Starting in 1999, PDF was enriched with corporate solutions, such as electronic signatures and tools for minor file editing.
Nowadays PDF files are easy to create and view. It's one of the file formats used when we scan a document or when we read an electronic book. The main advantages of using PDF include:
Error-free: regardless of the device the document is opened with, the contents will be reflected exactly the same as the original version;
Security: no worries about distributing the document. If it's password protected, no one apart from designated users can open the file; plus, you can protect PDF files from copying;
Combines all the information in one file, including graphics, audio, 3D graphics;
It's searchable and compact: if you deal with a long business document and are looking for something particular, you can find the information based on the key word, within a few seconds;
Documents can be magnified up to 1600%, without diminishing the quality;
Ideal format for business documents, such as contracts, where the look of the original paper including signatures will be displayed with 100% accuracy.
The software development company fCoder Group, Inc. offers a variety of options for working with PDF files. Universal Document Converter will help convert different file formats into PDF. Our batch printing utility Print Conductor will allow automatic batch printing of PDF files. FolderMill offers advanced corporate solutions for converting files to PDF or printing them with minimal interaction required from end users.
Photo by Marvalous