Add Text or Image Watermark in Batch Mode with DocuFreezer 3.2
A new and improved version of our file converter for Windows has been released! DocuFreezer version 3.2 features new abilities for batch watermarking, updated Settings panel, new supported formats, and more.
Apply fully customizable watermarks to document pages
One of the new cool features of DocuFreezer 3.2 is new intuitive controls for watermarking. Adding a watermark to files can help protect your content from unauthorized use or apply a logo for branding. Different settings and parameters are available whether you're adding a text or an image.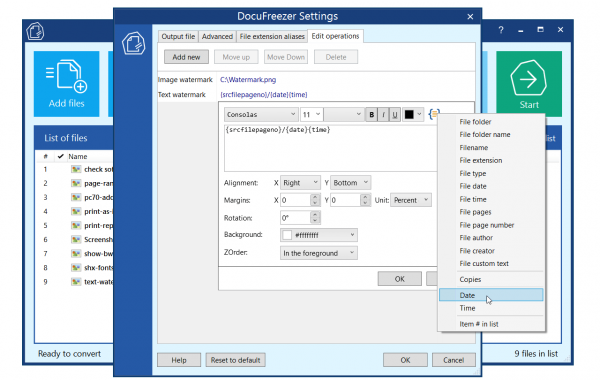 To add one or a few watermarks, open DocuFreezer, click Settings and go to the Edit operations section. Then use the Add new button to add and configure watermarks you'd like to add to the output files pages.
Add watermark to multiple files
Now you can customize watermarks not only with Universal Document Converter but also with DocuFreezer. Parameters for watermarking are similar in both apps. But using DocuFreezer will allow you to:
Batch watermark many files at once, without opening each one;
Insert a watermark to all or a range of pages;
Use built-in macros that retrieve data from the source files (time, date, file name, etc.).
Besides, with DocuFreezer, you can add several watermarks simultaneously and control their vertical position by moving them up or down.
Learn how to set up watermarking →
What else is new in version 3.2
New Advanced Settings panel with all available settings;
New features for Outlook email message files;
New supported formats: iCalendar ICS, Apple Mail EMLX;
Ability to load a list of files from an Excel spreadsheet;
Updated components for processing PDF, Excel, Word DOC and DOCX, and other popular file types;
And more.
Learn about all new features in DocuFreezer 3.2 →
DocuFreezer is an offline batch conversion software that lets you easily save multiple files to the preferred document (PDF, TXT) or image format (JPG, PNG, TIF). The program is available for download and non-commercial use for free.