2Printer 8.0 – Major Update of Command Line Software for Batch Printing
fCoder 2Printer allows you to print many files in batches. With this command line utility, you can select the device you want to send print jobs to, as the program supports connections to local or network printers for printing on paper. 2Printer also supports virtual printers, so it works well with Universal Document Converter. 
To indicate a place where files are located or listed, you can set various types of sources: a folder, a list of files, a URL address (added as a new feature in the latest version), or a single file. The program can scan any directory and, optionally, subfolders, and then send them to the selected printer according to command line parameters.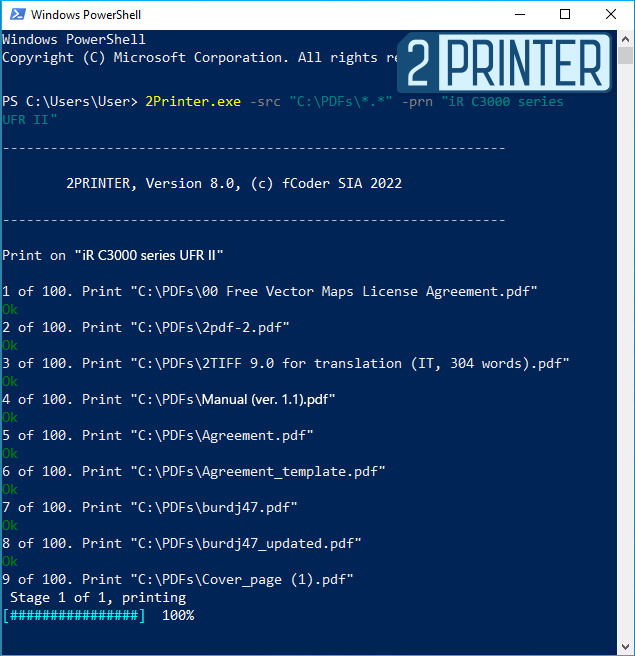 2Printer is designed to handle large print workflows with ease. You can even create print tasks for future periods of time: the program's command can be executed as a scheduled task from the Windows Task Scheduler. Thus, you can set the program to run print jobs at any time. For example, print jobs can start automatically based on a schedule even before you come to the office, so that the documentation is ready to start work.
No need for MS Office apps anymore
The 8.0 major update brings many features and performance improvements as well. For instance, the latest version can process Word documents (DOC, DOCX, RTF), Excel spreadsheets (XLS, XLSX, CSV), and Outlook (EML, MSG) email message files on its own. Previously, 2Printer users had to have Microsoft Word, Excel, and Outlook (or their alternatives) installed.
Learn about all new features →
Need a more intuitive app to simplify printing of multiple files?
2Printer is a tool designed for PC users or admins who know how to use the command line. If you'd rather use a program with a graphical interface (with similar batch printing features) that can print to a "regular" or virtual printer, such as Universal Document Converter – we suggest you try Print Conductor.