fCoder Releases a New 2PDF, Major Update 2.0
2PDF, a command line tool for batch file conversion to the PDF format, has got a new version 2.0 with new features. This is a CMD utility that can convert many files at once to PDF – with the use of any command line interface or a script.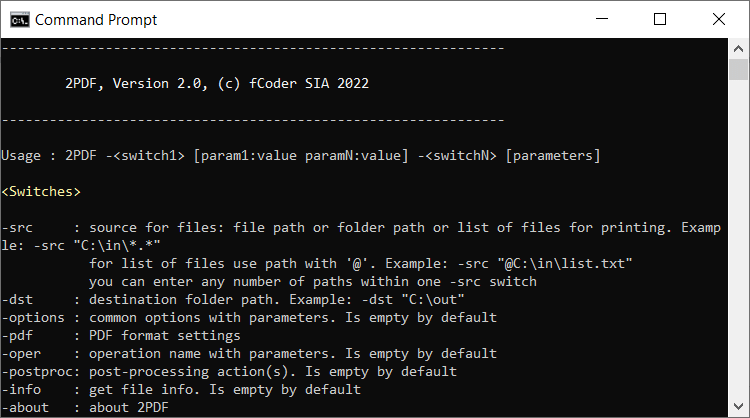 Professional command line tool for PDF conversion
Anyone familiar with command line interface can automate turning files into PDF format with the use of 2PDF. You can convert files separately, files listed in a txt file or convert the entire folder. Besides just conversion, this software can do even more. With 2PDF, you can:
Convert a single file;
Convert an entire folder of files;
Convert all files using their paths listed in a TXT file;
Combine multiple files into a single output file;
Split multipage files into separate PDFs;
Create searchable PDFs (OCR);
Set file processing on a schedule or by a script;
Use additional options: page range selection, file naming, sorting of output files, password protection, watermarking, post-processing actions, and much more.
2PDF can be used both on a desktop or server and it works offline, no internet connection needed.
Version 2.0 highlights
The previous version of 2PDF required having Microsoft Office apps installed (or their OpenOffice/LibreOffice alternatives), to allow the program to convert Word, Excel, or Outlook files. Now having these Microsoft programs is not needed – 2PDF can handle these files on its own. Other remarkable features include:
New supported formats: HEIC/HEIF, EPUB, VCF, ICS, EMLX, DNG;
Ability to automatically delete, copy, or move the original source files with post-processing actions;
Ability to save any web page as PDF using URL as source;
New Text watermark, Image watermark, Barcode watermark, Rotate, and Auto rotate operations.
To learn what's new in the latest release or download a free trial version, use the links below.
Learn what's new in 2PDF 2.0 →